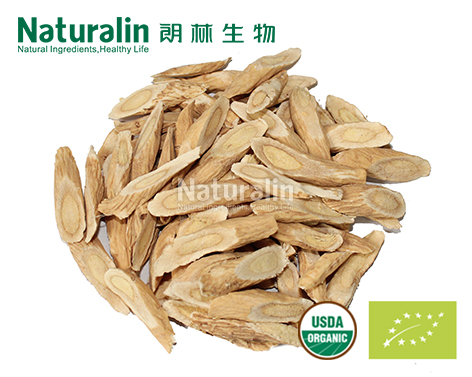 Organic Astragalus
Naturalin Code:

NAT-018

Product Specification:

Whole/ Cut/ Slice

Latin Name:

Astrgalus membranaceus(Fisch.)Bge.

Test Method:

CP2015

We're here to help:


Easy ways to get the answers you need.

PRODUCT DESCRIBTION
Introduction:
Astragalus (Huang qi) is an herb that has been used in traditional Chinese medicine for centuries. Astragalus is the source of a popular medicine for use against cold, flu and other respiratory infections. It also is called an adaptogen, meaning it protects the body from physical, mental, or emotional stress.

Functions & Applications:
· Natural antioxidant properties; Improve immune system, it contains polysaccharides and flavonoids and it responsible for the antimicrobial, antiviral and anti-inflammatory capabilities; Improving spleen and kidney and treating impotence, etc.
· It is widely used in medicine field and health products as added ingredients of medicines; In cosmetic industry, it is able to nourish and cure the skin.
Naturalin Quality
Right Species
· Professional herbalist team; TLC identification; HPLC test
Strict Quality Control
· Control on Foreign matters, Heavy Metals, Micro-organism & Pesticides Residue, etc.
Certificate
· ISO9001, FSSC22000, USDA Organic, etc.

Our herbs & spices meet CP, USP, or EU Pharma standard, The following is Naturalin TOP organic herbs & spices list, if you need other herbs or spices, please feel free to inquiry: sales@naturalin.com
| | | |
| --- | --- | --- |
| English Name | Latin Name | Chinese Name |
| Organic Astragulus | Astrgalus Membranaceus | 有机黄芪根 |
| Organic dandelion | Taraxacum Mongolicum Hand.-Mazz | 有机蒲公英根 |
| Organic polygonum multiflorum | Polygonum Multiflorum Thunb. | 有机何首乌 |
| Organic Schisandrae sphenantherae fructus | Schisandra chinensis(Turcz.) Baill | 有机南五味子 |
| Organic honeysuckle | Lonicera japonica Thunb | 有机金银花 |
| Organic magnolia bark | Magnoliae Officinalis Rehd. et Wils. | 有机厚朴 |
| Organic mulberry leaf | Morus Alba L. | 有机桑叶 |
| Organic Turmeric/Powder/Extract | Curcuma Longa Linn | 有机姜黄原料/生粉/提取物 |
| Organic Rhodiola/Cut/Powder/Extract | Rhodiola crenulata (Hook. f. et Thoms. )H. Ohba | 有机红景天原料/生粉/提取物 |
| Organic Ginkgo Biloba Leaf | Ginkgo Biloba L. | 有机银杏叶 |
| Organic Dong Quai/Cut/Powder/Extract | Angelica Sinensis (Oliv.) Diels | 有机当归 |
| Organic Epimedium /Cut/Powder | Epimedium Brevicornum Maxim | 有机淫羊藿 |
| Organic Ginseng/Cut/Powder | Panax Ginseng C.A.Mey. | 有机人参 |
| Organic Fenugreek Seed | Trigonella Foenum-graecum L. | 有机葫芦巴籽 |
| Organic Oive Leaf | Canarium album (Lour.) Raeusch. | 有机橄榄叶 |

Associated Products
Contact Us
Email: sales@naturalin.com
Tel: +86(731)84430651
Free Sample
Subscribe Naturalin

INQUIRY
Please note that we are a wholesale company selling bulk quantities of 5 kg and greater.
We do not sell retail quantities to individuals.
Why Subscribe Naturalin Newsletter & Magazine?
As a leading plant extract manufacturer in China, Naturalin would like to offer you plant extract marketing inforamtion for you
in the form of monthly newsletter and semiyearly magazine, it is free of charge. Many thanks.