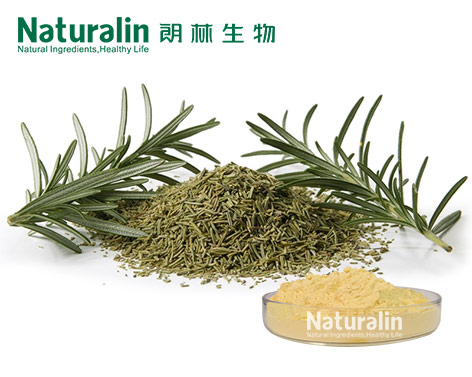 Rosemary Extract
Naturalin Code:

NAT-185

Product Specification:

5%-20%Rosmarinic Acid,10%Carnosic Acid(oil),10-50%Carrnosic Acid(powder),50%Ursolic Acid

Latin Name:

Rosmarinus Officinalis L.

Test Method:

HPLC

We're here to help:


Easy ways to get the answers you need.

PRODUCT DESCRIBTION
Introduction:
Naturalin owned a rosemary plant base, we control the ingredients quality from the beginning of raw materials. We develops serveral types of rosemary extract to meet client's deifferent applications, such as water-soluble rosmarinic acid products, oil-soluble carnosic acid products, daily use rosemary oil, and medical products-ursolic acid, etc.
After R&D for more than a decade, we have developed our own Naturalin
®
rosemary coumpound which dedicated to personal care products.
Naturalin Patent Product: ZL201210214411.1
| | | | |
| --- | --- | --- | --- |
| Specification | Test Method | Form | Features |
| 5%-30% Rosmarinic acid | HPLC | Powder | Water soluble |
| 10%-95% Carnosic acid | HPLC | Powder & Oil | Oil soluble, soluble in organic solvent |
| 25%-98% Ursolic acid | HPLC | Powder | / |
Applications:
Natural preservative & antioxidant:extend shelf life, stabilize the appearance and preserve taste.
· Oils and fats/ Drinks & beverages/ Fish products/ Confectionery products/ Meat products/ Sauces
● Nutritional Supplements
Antioxidant, eliminate free radicals, anti-aging, etc.
· Capsules (hard & soft)/ Tablets/ Powder/ Tinctures/ Pills

Anti-bacterial, Antioxidant, Anti-aging, etc.
· Shampoo/ Facial cream/ Facial mask/ Soap/ Body lotion/ Cleaning foam/ Shower gel
Spec: Carnosic acid oil 5%, 10%; Rosmarinic acid powder 5%.
Anti-oxidation, improve immunity and growth performance, improve meat quality.
· Animal food/ Pet food

Recommended usage: 0.003%-1%

Naturalin also supply Rosemary Oil products.
Extraction parts: Leaf (Dried, 100% Natural)
Method of extraction: Solvent Extraction
Spec: 10% Carnosic acid oil (Fine brown oily liquid)

Advantages & Supports
* Patent product; Annual export: 100 tons +
* Planting base/ Industry chain management
* Certifications: USDA & EU Organic, TC
* Third party testing: Eurofins, SGS, NSF
* Types: Extract/ Oil/ TCM material
* Heavy metals meet: lead<3ppm mercury<0.1ppm cadmium<1ppm arsenic<1ppm
* Support customization: Powder & Liquid & Herb

Packing & Storage:
25KG/drum; Packed in sealed aluminum foil bags lined with plastic seal or sealed double plastic bags. Store in a well-closed container away from moisture.

Shelf Life:
2 years if sealed and store away from direct sun light.
Natural Ingredients, Healthy Life.
Naturalin is a professional plant extracts manufacturer and natural ingredient solutions provider.
Please feel free to contact us for your any concerns.


Associated Products
Contact Us
Email: sales@naturalin.com
Tel: +86(731)84430651
Free Sample
Subscribe Naturalin

INQUIRY
Please note that we are a wholesale company selling bulk quantities of 5 kg and greater.
We do not sell retail quantities to individuals.
Why Subscribe Naturalin Newsletter & Magazine?
As a leading plant extract manufacturer in China, Naturalin would like to offer you plant extract marketing inforamtion for you
in the form of monthly newsletter and semiyearly magazine, it is free of charge. Many thanks.