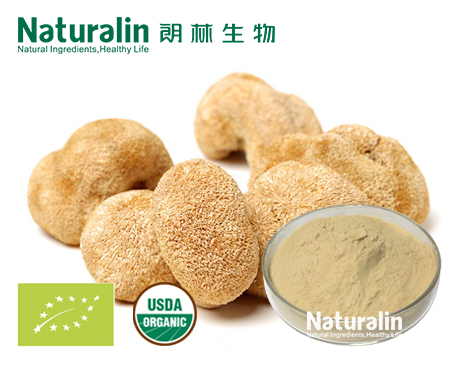 Organic Lion's Mane Mushroom Extract
Naturalin Code:

NAT-278

Product Specification:

10%-30% Polysaccharides, 10%~30% β-Glucan

Latin Name:

Hericium erinaceus (Bull.) Pers

Test Method:

UV-VIS,kit K-YBGL

We're here to help:


Easy ways to get the answers you need.

PRODUCT DESCRIBTION
Our Lion's Mane Mushroom Extract conform to EU standards: EC396 pesticide residues standard, heavry metal, PAHs.
Lion's mane mushroom extract with an extremely wide range of flavours, Hericium erinaceus is particularly popular in Asia as an edible mushroom and delicacy, as its taste is reminiscent of seafood with a hint of citrus. The lion's mane mushroom contains eight amino acids as well as zinc, iron, selenium. In addition to a high potassium content, it is also low in sodium. This medicinal mushroom is highly valued due to its many polysaccharides and polypeptides. Lion's mane mushroom and its extract have been shown to have a variety of health benefits.
| | | | | |
| --- | --- | --- | --- | --- |
| Product Name | Active Ingredients | Extract Part | Extract Solvent | Remark |
| Lion's mane mushroom powder | Polysaccharides | Fruiting Body | / | Organic |
| Lion's mane mushroom extract/ powder 4:1~10:1 | Polysaccharides; Beta-glucans | Fruiting Body | Water | Organic |
| Lion's mane mushroom dual extract/ powder 10:1 | Polysaccharides; Beta-glucans 1 Hericenone | Fruiting Body | Water-Ethanol | Organic |
Applications: Health Care Field; Food & Beverage Field
Packing & Storage:
Pack in paper-drums and two plastic-bags inside. Net Weight: 25kgs/paper-drum.
1kg-5kgs plastic bag inside with aluminum foil bag outside. Net Weight: 20kgs-25kgs/paper-drum.
Store in a well-closed container away from moisture and light.

Shelf Life:
2 years if sealed and store away from direct sun light.

Natural Ingredients, Healthy Life.
Naturalin is a botanical/plant extracts manufacturer and Natural Ingredient Solutions provider.
Please feel free to contact us for your any concerns.

Associated Products
Contact Us
Email: sales@naturalin.com
Tel: +86(731)84430651
Free Sample
Subscribe Naturalin

INQUIRY
Please note that we are a wholesale company selling bulk quantities of 5 kg and greater.
We do not sell retail quantities to individuals.
Why Subscribe Naturalin Newsletter & Magazine?
As a leading plant extract manufacturer in China, Naturalin would like to offer you plant extract marketing inforamtion for you
in the form of monthly newsletter and semiyearly magazine, it is free of charge. Many thanks.