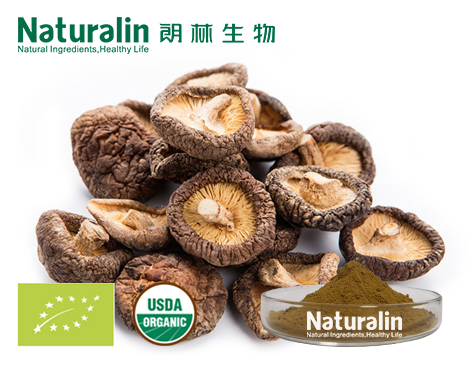 Organic Shiitake Mushroom Extract
Naturalin Code:

NAT-193

Product Specification:

20%~40% Polysaccharides, 5:1; 8:1; 10:1

Latin Name:

Glossogyne Tenuifolia Cass

Test Method:

UV-VIS,kit K-YBGL

We're here to help:


Easy ways to get the answers you need.

PRODUCT DESCRIBTION
Natural Polysaccharide Nutrition
TLC Chromatogram Available
Introduction:
Shiitake mushrooms are an edible variety of mushroom native to China, particularly known for their healing properties. The mushrooms themselves are brown and fleshy with a curved cap that can grow anywhere between 5 to 25cm in diameter. The shiitake mushroom has been cultivated in Asia for well over 1000 years – there is record of its growth as early as 1000AD, and is now the third most widely produced mushroom in the world. The shiitake mushroom has been used as a symbol of longevity in Asian countries due to its health-promoting properties.
Shiitake mushrooms contain fat, carbohydrate, protein, fiber, vitamins and minerals. However, it's key component is called Shiitake mushrooms polysaccharide. Shiitake mushrooms polysaccharide is extracted from the crushing mycelium of mushroom, which is rich in polysaccharides and lignin.
Functions:
1. Reduces blood cholesterol levels;
2. Anti-bacterial properties;
3. Anti-viral properties;
4. Anti-tumor;
5. Prevents blood pressure increase;
6. Stimulates the immune system;
7. Thrombosis prevention.
Applications:
Polysaccharide is a effective active ingredient extracted from selection of Shiitake mushroom fruit body , its scent, nutrient-rich, efficacy significantly, can be used as all kinds of health care products, food and spices added ingredients.
1. Nutritional supplement;
2. Functional food and food additive.
Packing & Storage:
Pack in paper-drums and two plastic-bags inside. Net Weight: 25kgs/paper-drum.
1kg-5kgs plastic bag inside with aluminum foil bag outside. Net Weight: 20kgs-25kgs/paper-drum.
Store in a well-closed container away from moisture and light.
Shelf Life:
2 years if sealed and store away from direct sun light.
Natural Ingredients, Healthy Life.
Naturalin's Organic Farms
Naturalin has long history of cultivate organic mushrooms with each mushroom grown in the optimal cultivation area for that mushroom in China. Our organic Reishi (Ganoderma lucidum) are cultivated in Zhejiang province, and Lion's mane (Hericium erinaceus) are cultivated in Fujian province, Cordyceps Militaris are cultivated in jiangsu province, The wild musheooms, such as chaga mushroom are picked up from mountain at Northeast.


Associated Products
Contact Us
Email: sales@naturalin.com
Tel: +86(731)84430651
Free Sample
Subscribe Naturalin

INQUIRY
Please note that we are a wholesale company selling bulk quantities of 5 kg and greater.
We do not sell retail quantities to individuals.
Why Subscribe Naturalin Newsletter & Magazine?
As a leading plant extract manufacturer in China, Naturalin would like to offer you plant extract marketing inforamtion for you
in the form of monthly newsletter and semiyearly magazine, it is free of charge. Many thanks.