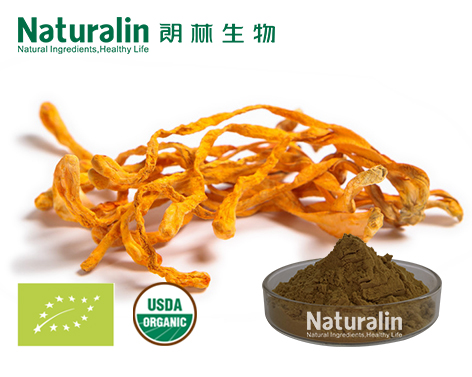 Organic Cordyceps Extract
Naturalin Code:

NAT-069

Product Specification:

10%~30% Polysaccharides, 10%~30% β-Glucan

Latin Name:

Cordyceps militaris (l.exfr)link

Test Method:

UV-VIS,kit K-YBGL

We're here to help:


Easy ways to get the answers you need.

PRODUCT DESCRIBTION
· 100% Organic | Pure | Certified | Annual Export 100 tons+

· Our products conform to EU standards: EC396 pesticide residues standard, heavry metal, PAHs.

Cordyceps is a valuable large-scale medicinal fungus in China. The natural polysaccharides are used as a resource for treating diseases. Cordyceps contains a variety of biologically active ingredients, such as cordycepin, polysaccharides, antibacterial and antitumor adenosine derivatives.
Polysaccharides are considered to be one of the most important active ingredients of Cordyceps. Cordyceps polysaccharides have many biological activities, such as anti-inflammatory, immunomodulatory activity, and antioxidant.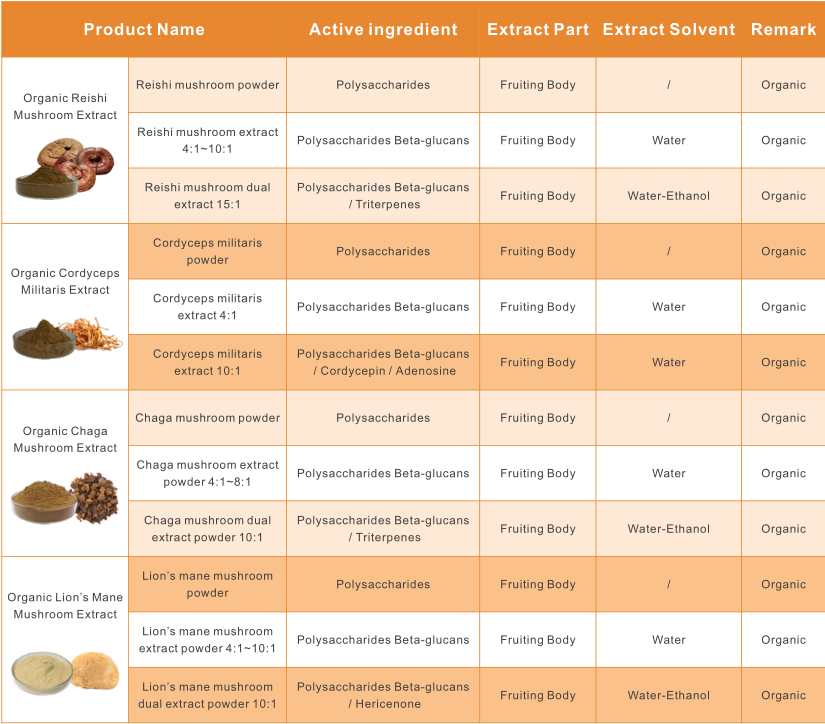 Applications:
· Health Care
Cordyceps extract can improve immunity. And widely used as the basic drugs in cerebrovascular disease.
· Cosmetic Field
Cordyceps extract is used to reduce chloasma, age pigment and whelk.
· Food & Beverage Field
Cordyceps extract is widely used in functional food such as water-soluble beverages.And as food additives added into many kinds of product.
· Animals Feed
Cordyceps extract can be used as feed additives to enhance animal's immune function and improve the quality of animal products.
Reliable Quality Control
* Strictly in-house quality control (refer to our Specification or COA).
* Third Party Tests: Pesticide residues, Heavy metals, PAHs, Aflatoxin, etc. Conform to EU standards
* Third Testing Party: Eurofins, sGS, NSF or other test labs required by customers.


Associated Products
Contact Us
Email: sales@naturalin.com
Tel: +86(731)84430651
Free Sample
Subscribe Naturalin

INQUIRY
Please note that we are a wholesale company selling bulk quantities of 5 kg and greater.
We do not sell retail quantities to individuals.
Why Subscribe Naturalin Newsletter & Magazine?
As a leading plant extract manufacturer in China, Naturalin would like to offer you plant extract marketing inforamtion for you
in the form of monthly newsletter and semiyearly magazine, it is free of charge. Many thanks.