The best ingredients can only come from
the finest raw materials and manufacturing process controlling.
Naturalin TQM (Total Quality Management) starts from the source of raw materials, GAP certified farms, strict raw materials TLC Thin-layer chromatography (TLC) , sensory identification and bioactive compounds identification.
Advanced Quality Control Center
Our laboratory is equipped with advanced analytical instruments, such as HPLC, TLC, UV, AAS and etc. Following the principles of HACCP and GMP management, our experienced QA and QC teams make sure that through real-time supervision and control, we always bring the highest quality products to our customers.
We have also established long-term cooperation with some third-party laboratories (NSF, SGS, and Eurofins), and our products are regularly sent to these laboratories for testing to ensure that they are safe and meet our customer's requirements.
Organic Plants-growing Farms
Naturalin has a self-operating planting base of nearly 1000 mu, located in Hengshan County, mainly planting rosemary, cactus and others. The planting complies with the high organic standards, meeting EP and USP requirements, to ensure product quality and reduce the impact on the environment.
GMP Compliant Manufacturing Workshops
Our modern plant of more than 23300m², is located in Liuyang city,about 60km from the company headquarters, which is fully-equipped with extraction, concentration, batching, sterilization, and spraying equipment to meet the production needs of different types of products.
It was built according with China legislation and satisfying with all the regulations and govern the activity in the country and abroad. With more than 100 employees working daily, we build a sustainable work environment, developing policies aimed at protecting and promoting the health, safety, well-being and training of employees, from an overcoming approach to the physical working environment.
Organic Plant Base
Advanced Quality Center
GMP-standard Workshop
Quality Assurance
Committed to perfection at every step of the quality control
R&D
Naturalin lab and R&D focus on the
followings:
Comprehensive utilization and development of traditional herbs.
Research and development of new products.
Customised production based on function formulations and your design.
Application, research, solutions of natural plant extracts and other technical support.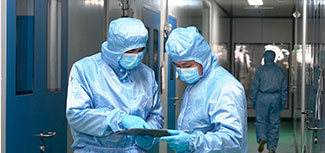 Patents
Bupleurum extract, Rosemary extract, Broiler feed additive, Natural composition to improve skin health, Olive leaf extract, Ganoderma extract, Cranberry extract, Echinacea extract, Gotu kola extract, Soap nut extract, Rhodiola rosea extract, Eleutherosides B + E, Artichoke extract, Oleuropein, Maslinic acid and oleanolic acid, Chamomile extract, Iridoid glycosides in rehmannia glutinosa, Mushroom extract, Eucommia extract, Cacumen platycladi extract, Mangosteen extract,Tea seed extract, Hedera helix extract.