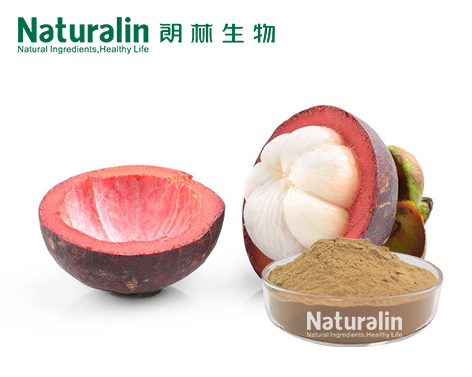 Mangosteen Extract
Naturalin Code:

NAT-249

Product Specification:

10% α-Mangostin

Latin Name:

Garcinia mangostana L.

Test Method:

N/A

We're here to help:


Easy ways to get the answers you need.

PRODUCT DESCRIBTION
Introduction:
Mangosteen (Garcinia mangostana Linn.) is a tropical evergreen fruit tree of the family Guttiferae, with deep reddish purple fruit, cultivated in Southeast Asian countries. In Thailand, the fruit of this plant is very popular and has been known as the 'Queen of fruits'.Mangosteen is a rare tropical fruit, scientific name is Mangji persimmon. The fruit is sometimes referred to as purple mangosteen because of the deep purple color its rind develops when ripe. In contrast, the juicy inner flesh is bright white. It is known as the "Queen of Tropical Fruits". In Southeast Asia, mangosteen peels have long been used in traditional medicine.
Mangosteen rind was found to have strong antioxidant properties, due to the high content of Xanthones. Of the 200 known xanthones, nearly 50 are found in the 'Queen of Fruits'. α-, β-, γ-mangostin are the major components, the most abundant of which is α-mangosti.
Advantage:
· 23300m² Modern factory
· Strict quality management system
· GMP standard workshop
· Customized services
Functions:
Anti-oxidation, anti-bacterial, anti-malarial
Application:
Nutritional food: Anti-glycation ingredients, nutritional supplements, effervescent tablets, capsule, etc.
Technological Process:

Packing & Storage:
Pack in paper-drums and two plastic-bags inside. Net Weight: 25kgs/paper-drum.
1kg-5kgs plastic bag inside with aluminum foil bag outside. Net Weight: 20kgs-25kgs/paper-drum.
Store in a well-closed container away from moisture and light.
Shelf Life:
2 years if sealed and store away from direct sun light.
Natural Ingredients, Healthy Life.
Naturalin is a botanical/plant extracts manufacturer and natural ingredient solutions provider.
Please feel free to contact us for your any concerns.

Associated Products
Contact Us
Email: sales@naturalin.com
Tel: +86(731)84430651
Free Sample
Subscribe Naturalin

INQUIRY
Please note that we are a wholesale company selling bulk quantities of 5 kg and greater.
We do not sell retail quantities to individuals.
Why Subscribe Naturalin Newsletter & Magazine?
As a leading plant extract manufacturer in China, Naturalin would like to offer you plant extract marketing inforamtion for you
in the form of monthly newsletter and semiyearly magazine, it is free of charge. Many thanks.