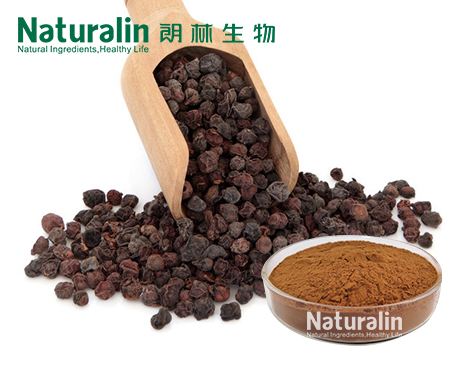 Fructus Schizandra Extract
Naturalin Code:

NAT-103

Product Specification:

2%-9% Schisandrins

Latin Name:

Schisandra chinensis(Turcz.) Baill

Test Method:

HPLC

We're here to help:


Easy ways to get the answers you need.

PRODUCT DESCRIBTION
Introduction:
Fructus schizandrae is the dried mature fruit of Schisandra chinensis Baill. or Schisandra sphenanthera Rehd. et Wils.; family Magnoliaceae. It is sour in flavour, warm in nature, and tropistic to the heart, lung and kidney channels. Being warm and moist in nature, it has all the five kinds of taste, while the sourness is the dominant. It is frequently taken as a tonic herb for harmonization and restoration of the dynamic balance of Yin and Yang.

Functions:
1. Improving pallium cells vigor, and improving intelligence;
2. Protect liver & Ease chronic active hepatitis;
3. Expanding blood vessel, adjusting blood pressure and preventing CHD;
4. Anti-knub and anti oxidization and anti aging;
5. Applied in the food field, it has become a new raw material which used in food and beverage industry;
6. Applied in the health product field, it is a natural health product to regulate sleeping.

Toxicity and Contraindications:
Fructus schizandrae extract is low in toxicity, and has few side-effects. but this dose, may taken all at once or escalated depending on the person's condition and recommendation by the Chinese medicine practitioner.

Applications:
Pharmaceutical stuff / Health care / Food additives

Packing & Storage:
Pack in paper-drums and two plastic-bags inside. Net Weight: 25kgs/paper-drum.
1kg-5kgs plastic bag inside with aluminum foil bag outside. Net Weight: 20kgs-25kgs/paper-drum.
Store in a well-closed container away from moisture and light.

Shelf Life:
2 years if sealed and store away from direct sun light.

Natural Ingredients, Healthy Life.
Naturalin is a botanical/plant extracts manufacturer and Natural Ingredient Solutions provider.
Please feel free to contact us for your any concerns.


Associated Products
Contact Us
Email: sales@naturalin.com
Tel: +86(731)84430651
Free Sample
Subscribe Naturalin

INQUIRY
Please note that we are a wholesale company selling bulk quantities of 5 kg and greater.
We do not sell retail quantities to individuals.
Why Subscribe Naturalin Newsletter & Magazine?
As a leading plant extract manufacturer in China, Naturalin would like to offer you plant extract marketing inforamtion for you
in the form of monthly newsletter and semiyearly magazine, it is free of charge. Many thanks.