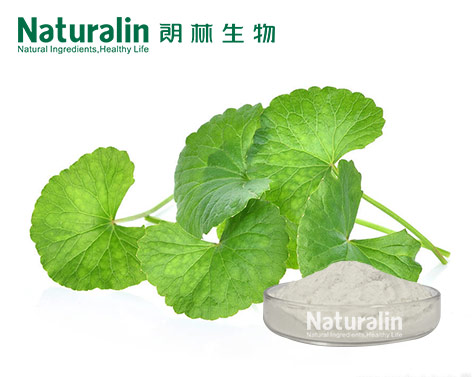 Gotu Kola Extract
Naturalin Code:

NAT-116

Product Specification:

10% ~70%Triterpenes; 95% Asiaticoside; 36-44% Asiaticosides, 54-66% Genins Triterpenes

Latin Name:

Centella asiatica(L.)Urb.

Test Method:

HPLC

We're here to help:


Easy ways to get the answers you need.

PRODUCT DESCRIBTION
Introduction:
As a member of the parsley family, gotu kola has long been used in traditional Chinese medicine and ayurveda (the traditional medicine of India) to heal skin conditions such as psoriasis, fight mental fatigue, and treat asthma, fever, and stomach ulcers.
According to modern studies, gotu kola does offer support for healthy memory function. A study conducted in 1992 by K. Nalini at Kasturba Medical College showed an impressive improvement in memory in rats which were treated with the extract (orally) daily for 14 days before the experiment. The retention of learned behavior in the rats treated with gotu kola was three to 60 times better than that in control animals. Preliminary results in one clinical trial with mentally retarded children was shown to increase scores on intelligence tests (Bagchi, 1989). This does not mean gotu kola will improve intelligence for all special or normal children.
According to pharmacological studies, one outcome of gotu kola's complex actions is a balanced effect on cells and tissues participating in the process of healing, particularly connective tissues. One of its constituents, asiaticoside, works to stimulate skin repair and strengthen skin, hair, nails and connective tissue (Kartnig, 1988).
Now sold as an herbal supplement, gotu kola extract has yet to be extensively researched and its application is being expanded accordingly.
Functions:
1. Improving memory;
2. Pressuring relief, good for sleeping;
3. Increasing circulation in people with diabetes;
4. Asiaticosides--- Anti-inflammatory, against irritated and reddened skin, anti-allergic;
5. Genins Triterpenes--Natural Antibiotic, antibacterial, anti-acne.


Applications:
1. Dietary supplement
Recommend Specification: 4:1 / 10%~40% Triterpenes
2. Personal care product
Recommend Specification: 80%~95% Asiaticosides / 36-44% Asiaticosides, 54-66% Genins Triterpenes


Naturalin recommended products for Personal Care Industry:

| | | |
| --- | --- | --- |
| Personal Care Ingredients | Spec | Function |
| Soap Nut Extract | 70% Saponins | Foaming ingredients; Antibacterial |
| Olive Leaf Extract | 20% Oleuropein | Antibacterial effect |
| Seabuckthorn Seed Oil | CO2 Seabuckthorn seed oil | Anti-oxidation; Repairing skin |
Packing & Storage:
Pack in paper-drums and two plastic-bags inside. Net Weight: 25kgs/paper-drum.
1kg-5kgs plastic bag inside with aluminum foil bag outside. Net Weight: 20kgs-25kgs/paper-drum.
Store in a well-closed container away from moisture and light.
Shelf Life:
2 years if sealed and store away from direct sun light.
Natural Ingredients, Healthy Life.
Naturalin is a botanical/plant extracts manufacturer and Natural Ingredient Solutions provider.

Associated Products
Contact Us
Email: sales@naturalin.com
Tel: +86(731)84430651
Free Sample
Subscribe Naturalin

INQUIRY
Please note that we are a wholesale company selling bulk quantities of 5 kg and greater.
We do not sell retail quantities to individuals.
Why Subscribe Naturalin Newsletter & Magazine?
As a leading plant extract manufacturer in China, Naturalin would like to offer you plant extract marketing inforamtion for you
in the form of monthly newsletter and semiyearly magazine, it is free of charge. Many thanks.